Van de Loopmasters site:
"Loopmasters presenteert Ultimate Vocals 3 – een  terugkeer naar de allesomvattende Ultimate serie, met een gigantische selectie Vocals, hand-picked uit onze allerbeste pakketten. Elke zangstem is 100% Royalty Free om in je tracks te gebruiken, met alles wat je nodig hebt. Van te gekke House knallers tot skank-heavy Dub destroyers!"
Ultimate Vocals 3 – eersteklas vocal selecties
Ultimate Vocals 3 bevat 3.07 GB aan eersteklas Vocal selecties; met Loops, Phrases, One Shots en Adlibs om uit te kiezen in een enorme reeks genres en tempo's. Je vindt Lead Vocals, backing Vocals, Harmonies, Chants, Raps, Shout outs en meer – afkomstig uit de gewaardeerde Loopmasters collecties, opgenomen in top studio's en geleverd in kristalheldere 24 Bit.
"Dit is het pakket dat je nodig hebt als je House, Dub, Trap, Hip Hop, Chillout, Electro, Soul, Garage of Jazz produceert."
In het pakket zitten alleen de beste Vocals, uitgekozen uit:
Dark Beauty Deep House, Sunrise Deep House & Electronica, Hip Hop Arrival 01 – Attack Of The Illmatix, Hip Hop Arrival – The Star Mobster Heist, Tech House Sanctuary, Berlin Dub Techno 2, Chilled Glitch, Organic Trip Hop & Scratch, Organic Trip Hop & Scratch 2, Cloud Rap, Dubwise Vol 2, Drum & Bass Apocalypse 2, Sacred Indian Chants 2, Junglist Workout, Chill LA Trap, Signals Chilled Downtempo & Trip Hop, Psytrance Pulse, Drum & Bass Apocalypse, High Rollers Slow Burners, Maison Records Real House Music 3, Mad Villains Ghetto Deep, Nu Cumbia 2, Psytrance Intelligence 2, Principal House, Psytrance Nation, Rasta Mc Vocals Vol 3, Future vibes, Raw Tech Synths & Vocal Drops, Future Bass Breakout, Organic Trap, Speakin' & Preachin', Tuff London Tuff House, The Melody, Men – Killer Club, Tomorrow Trap, Twisted Tech Funk, Codes Of Techno, Tech Therapy Vol 2, Nu Cumbia vs Trap, Dubstep Rising, Modern UK Garage & Bass, Underground Soul Vocals 1, Deep House Vogue, Voyage – Chilled Trip Hop & Electronica, Bass Music MCs, Leo Wood – Drum & Bass Vocals Vol. 2, Vocal Africa, Amanda Wilson – House & Disco Vocals, Ashley Jana – Indie Pop Vocals en Deep House & Soulful Vocals 2.
Deze verzameling gaat verder waar de uiterst succesvolle Ultimate Vocals 1 en Ultimate Vocals 2 ophielden, en bevat weer een enorme selectie van Vocals opnamen, geschikt voor vele jaren aan produkties! Dit is het pakket dat je nodig hebt als je House, Dub, Trap, Hip Hop, Chillout, Electro, Soul, Garage of Jazz produceert!
Je kunt 3.07 GB aan inhoud verwachten, met alle audio opgenomen in 24Bit 44.1KHZ.
Er zijn 1500 Vocal Samples, onderverdeeld in 190 House Vocals, 180 Trap Vocals, 160 Drum & Bass Vocals, 124 Tech House Vocals, 112 Deep House Vocals, 103 Future Bass Vocals, 98 Trance Vocals, 82 Trip Hop Vocals, 76 World Vocals, 51 Garage Vocals, 47 Techno Vocals, 46 Dub Vocals, 43 Cinematic Vocals, 33 Dubstep Vocals, 32 Bass Music Vocals, 30 Pop Vocals, 27 Downtempo Vocals, 26 Soul Vocals, 20 Atmosphere Vocals en 20 Hip Hop Vocals.
Ultimate Vocals Volume 3 is weer een bonte verzameling vocale samples die waarschijnlijk 1 van de beste en breedste selectie vocalen bevat die er te vinden zijn!
Ultimate vocals 3 kost ongeveer 50 euro. Op de officiële pagina zijn vele voorbeelden te vinden en met een gratis account krijg je toegang tot een proefpakket met samples: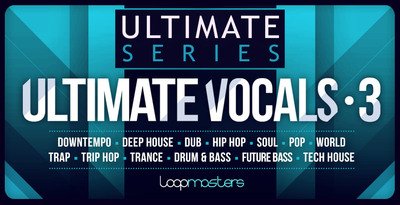 Royalty Free Vocal Samples, DnB Vocals, House Vocal Loops, Dub Vocals, Female Vocals, Male Vocals
Royalty Free Vocal Samples, DnB Vocals, House Vocal Loops, Dub Vocals, Female Vocals, Male Vocals at
▶Loopmasters.com